Edward Holgrove
Jump to navigation
Jump to search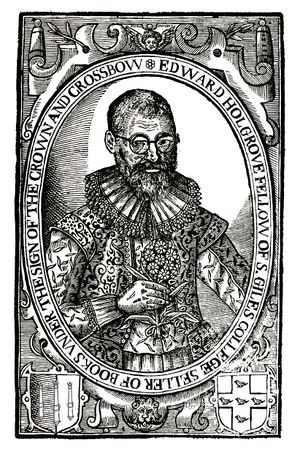 Edward Holgrove started life in the SCA as Duncan Macquarrie just before TYC (which he didn't attend), joining via what became known later as S. Giles College in the fall of 1985. He met his future wife, Lucy Holgrove, at that time. He became a Sergeant-at-arms to Her Excellency, Amanda Kendal of Westmoreland alongside his good friend William of Thetford thanks to the training and encouragament of his good friend Barak de Noirville.
In A.S. LIII Edward was made seventh Baron of Seagirt at the Tir Righ August Investiture.
Persona
Edward is a stationer and bookseller in Norwich c.1620. A member of the local trayned bandes, Edward is interested in cartography and the design of fortifications. He plans to emigrate to New Amsterdam to seek his fortune in the new world.
Alternate Personae
His Lordship has gone by the following names during his time in the SCA:
Duncan Macquarrie (registered as Macquarie thanks to a spelling error - probably on my part) - a late sixteenth century Scotsman from the Island of Ulva.
Nuncan di Naimo - an alias given by his lady commemorated in the song The Ballad of Nuncan.
Gaius Agrippa Militaris - Optio of Legio XXIII (Ferox)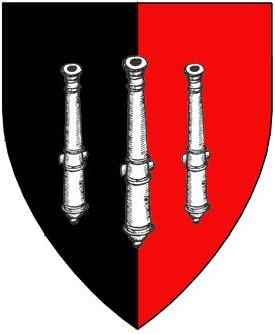 Armory
Name
Registered, June 2017: Edward Holgrove;
Registered, September 1986: Duncan Macquarie
Arms
Registered, June 2017: Per pale sable and gules, in fess three cannon barrels palewise argent.
Badge
Registered, December 1990: (Fieldless) A bat-winged grenade argent.
Awards & Accomplishments
Award of Arms (An Tir)
Sergeant (Lions Gate, later Seagirt)
Goutte de Sang (An Tir)
Magistrae Ithra (Ithra)
Fellow of Saint Giles
Seagull (Seagirt)
Seagirt Bardic Champion (AS XXXXX)
Silver Lyre (Tir Righ) (AS LII)
Skald of Tir Righ (Bardic Champion) (ASLII)
Current Offices
Seventh Baron of Seagirt
Castellan (Tir Righ)
Past Offices Held
Shire of Seagirt (pre-barony))
Senechal
Master of Stables
Castellan
Chronicler
S. Giles College
Chancellor (seneschal)
Registrar (castellan)
Barony of Seagirt
Events
Event Steward for:
Guy Fawkes 1987
Seagirt Picnic 1989
Daffodil 1990
Roman Military Workshop 1991
Inaugural SeaLion War 1993
Northern Region Rapier Championship 1998
External Links