Cesare the Merchant
Jump to navigation
Jump to search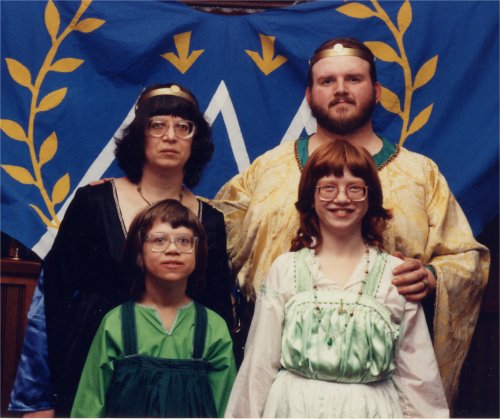 Cesare the Merchant started his dream in the SCA in Terra Pomaria around December AS XVI/1982, a month after the branch organizatonal meeting, first known as Vandoral the Merchant. He used that name Vandoral for several of his earliest years finally abandoning it after learning it was not registerable with the College of Heralds.
Along with his lady wife, Mistress Astrid of Flanders, he shares the esteem of but a handful of people that can claim to be the longest continually present and participating residents of Terra Pomaria.
One of his more well known traits is his interest and skill in heraldic arts. Having designed Terra Pomaria's device, Cesare is also a consummate voice herald, once serving as personal herald to Tjorkill and Elowen, King and Queen of An Tir. He is always willing and has many times lent his voice to the needs of town crier and field herald. Both as a herald and aside, Cesare is quite the punster having enlightened many courts with his humorous outbursts on a whim; Such comedy resulted in his induction into Whimsical Order of the Ailing Wit.
Long having been an armored combatant, Cesare is very well known for partaking in combat in his trademark blue armor that notably matches the blue of Terra Pomaria's device. As well, Cesare has contributed many times as a marshal, especially in the Summits, when the need arises.
Cesare has held a multitude of positions in Terra Pomaria including herald, chronicler, Seneschal of Terra Pomaria from September 1984 to December 12, 1990 and games master. His greatest duty was serving as the founding Baron of Terra Pomaria, from May 16 AS XXVII/1992 through Sept 2 AS XXXV/2000.
Among his many accolades, Cesare's kingdom recognized honors include: an award of arms December 1 AS XIX/1984, inducted into the Order of the Goutte de Sang January 12 AS XXV/1991, elevated into the Order of the Pelican February 27 AS XXXIII/1999, made a Court Baron September 2 ASXXXV/2000. At the baronial level, Cesare was awarded a Silver Apple for service April 17 AS XXVII/1993, inducted into the Order of the White Scroll September 16 AS XXXV/2000, the Order of the Hazelnut August 25 AS XXXVI/2001 and made the Pillar of Excellence of Terra Pomaria February 12 AS XXXIX/2005. Cesare is the sole continuous sergeant of Terra Pomaria, first installed to Baroness Astrid of Flanders October 9 AS XXVIII/1993, to have served all three landed baronesses including former Baroness Elspeth of Wyre Forest and current Baroness Marianna ferch Orla.