An Tir
Jump to navigation
Jump to search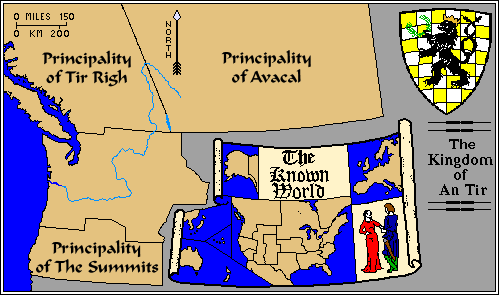 An Tir, Gaelic for "The Land", is the kingdom in which we live and what this wiki is about. It encompasses the U.S. states of Oregon, Washington, a small portion of Idaho, and the Canadian provinces of British Columbia, Alberta and Saskatchewan. It includes the principality of Tir Righ, and The Summits. The former principality of Avacal became it's own kingdom in June 2015. There is a complete list of the branches that make up An Tir elsewhere on this wiki.
Heraldry
The arms of An Tir are blazoned as, "Checky Or and argent, a lion rampant tail forked and nowed sable, crowned gules, grasping in dexter forepaw a laurel wreath bendwise vert." It was registered in December of 1981, and the Source/Artist Credit is given to Torric in Bjorn.
The An Tirian populace may display their membership within the overall kingdom with populace badges.
Related Pages