Vémundr Syvursson
Jump to navigation
Jump to search
Photo
Vémundr at Hartwood Champions, summer 2019
Information
Heraldry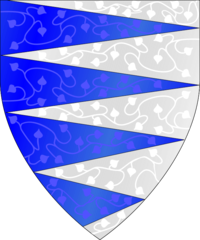 Pily barry argent and azure.
Resident of the Barony of Seagirt. Active since 2017.
Husband to Hallveig Sigrúnardóttir of Seagirt and Hartwood.
OP: https://op.antirheralds.org/index.php?who=10102
Roll of Arms: https://rollofarms.antirheralds.org/display.php?id=3093
Significant Awards
Award of Arms May 2019
Silver Pillar December 2021 (Emblazoned Pillar)
Goutte de Sang April 2022
Order of the Seagull August 2022
Offices
Seagirt Baronial Scribe, October 2018 to January 2023
An Tir Couronne Rouge Herald (Kingdom Roll of Arms Herald), September 2019 to March 2023
Event Steward, Tir Righ Principality Heraldic & Scribal Symposium (Virtual), April 2022 Seagirt Arts & Sciences Champion, September 2022 to present
Seagirt Baronial Herald (Coquille Herald), January 2023 to present
Tir Righ Red Flame Herald (Principality Submissions Herald), February 2023 to present.
Interested in heraldry, calligraphy & scribal, garb & sewing, and the usual scattering of random things.