Hunt Guild of An Tir
Jump to navigation
Jump to search
NEW! m'Lady Runa Harasdottir, Administrator (on FaceBook https://www.facebook.com/stephanie.mcleod) (mka, Stephanie McLeod <runa.harasdottir [@] gmail.com>)
The FaceBook group page is : An Tir Hunt Guild https://www.facebook.com/groups/1073979422647659/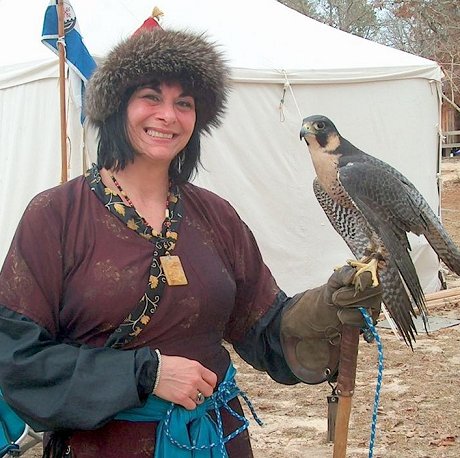 You may choose to do the Hunter/ Huntress Persona Challenge, ideally you should enter your information here on the yahoo groups: upon joining this Guild.
This is how we keep track of guild levels. Everyone starts out as Novice Hunter.
Please note--to enter your data, you will need to join the yahoo-group. http://groups.yahoo.com/group/HUNT_GUILD/database
"Man-hod I am, therefore I me delyght To hunt and hawke, to nourish up and fede The greyhound to the course, the hawks to th' flyght And to bestryde a goode and lusty stede" May it be known to all to whom these letters come that by this Charter we make our declaration before heaven to honor and exalt the Art of the Hunt throughout the Known World. To this we bind our Honor and Talents to form the Hunt Guild. In this we declare the Beauty of the World embodied by the graceful flying of hawks and the joyful running of our horses, hounds, and ferrets. That our Guild undertakes to advance the knowledge of the Hunt; which cause we shall strive to further by pursuing excellence in the research, care, and demonstration of the Art of the Hunt. This will include the study of Period Hunting techniques and the care and maintenance of the Hound, Horse, and Hawk in the Noble manor, and their historical role in the Ancient, Medieval, and Renaissance world. The Sub-guilds of Hunt Guild that fall within the Guild's charter include but are not limited to: Hunter and Huntress named as Archer, Equestrian, Spearman, Trapper, Falconer, and any other Hunters and Hunting Animals named as Horses, Hounds, Hawks, and Ferrets.To this we Hunters pledge our sacred Faith and Honor unto the Crowns of Known World and unto our faithful charges and companions.

The ultimate goal is to help focus people on the big part of Everyday Life in our Period: animals and hunting. Everything researched on period Hunting Techniques is for Persona Development and personal knowledge. And of course, to explore another facet of Equestrian Arts, that of hunting on horseback.Hunt Guild website