Award of Arms
Jump to navigation
Jump to search
Badge

'
Information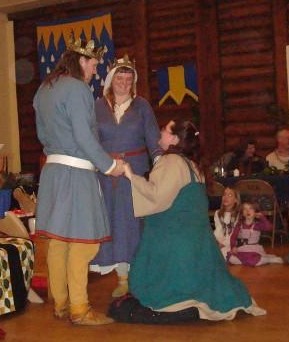 An Award of Arms is the first level of armigerous rank awarded by the Crown, generally to those who have become recognized as an integrated participant in the Society. The Crown of An Tir has granted Principality Coronets the privilege of bestowing AoA's to subjects of Their Principalities in the name of the Crown.
Despite the name, one does not need a Award of Arms to register a device - it simply becomes your arms after you receive the award. You don't need a registered device to receive an AoA, but your scroll won't have your device should you be awarded arms. Arms may also be awarded to groups and households. Court Baronies, by corpora, come with an Award of Arms if the recipient does not already have arms. Note that in An Tir Court Baronies are ranked above AoAs.
Often referred to as "AoA" (ay-oh-ay) or an "AA" (ay-ay)
The next level of armigerous rank awarded by the Crown is a Grant of Arms.
What does it mean to be an integrated participant?! This simply means you have been participating (taking classes, volunteering, having discussions, fighting, etc.) enough that other members have noticed you and believe your continued contributions to the Society worthy of recognition.
Part of a Typical Ceremony: *Recipient Name* where as it has come to Our notice that through diverse great efforts, you have considerably enriched Our Kingdom, it is thus Our pleasure to present you with an Award of Arms. From this day forward you have the rights and responsibilities of this rank, and We charge you to consult with Our heralds to determine suitable and unique arms.
First Given from the Crown of An Tir: Margrethe af Træet (Madrone), Jan 16, 1982 (AS XVI)
Rights and Responsibilities of the Rank
Title: Entitles the recipient to style themselves(note capitals) "Lord" , "Lady", "Noble", "Armiger", or "(Name) nobilis", and properly addressed as such. Example: "my Lady" or "my Noble.", See also: Official SCA Heralds List of Titles, Forms of Address
Regalia: A circlet - you can have a single stone mounted on the face (not above the band, as that would start to look like something else), and engraving and decoration on the circlet. See also: Sumptuary Laws and this link to An Tir Circlet Conventions.
Responsibilities: The people around you no longer consider you a "newcomer" and at least a few of them have vouched for your character. While you certainly have a lot more to learn and share(as we all do), newcomers will see you as a representative of the society and it is expected that you set the example and continue to uphold the SCA's foundational ideals curiously, chivalry, and honor with everyone you meet.
Other Awards that confer an Award of Arms
Sanguins Thorn - An award given to those in recognition of their Service.
Griffe et du Lion - An award given to those in recognition of their efforts to learn and further the Arts.
l'Esperon et du Lion - An award given to those in recognition of their efforts to learn and further the arts of combat.
The Crown charges the populace to bring those deserving of awards to their attention, by recommending them for awards. To recommend someone for this award or another GO HERE!!